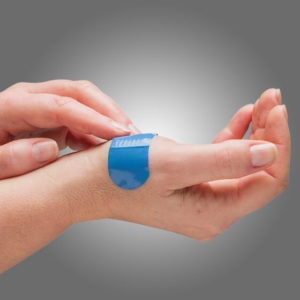 Food industry professionals know this: a reliable solution for dressing minor wounds can be hard to find. Adhesive bandages that lose their stickiness are unfortunately common, meaning that products get spoiled and that money is lost. It is such a frequent complaint from people in the food manufacturing and processing sector that Aero has taken the initiative and created the world's strongest adhesive bandage.
Made with SupaBond Adhesive™, the AeroPlast range offers superior stickiness that will perform in all environments. No matter how wet or steam-filled an area may become, it is virtually impossible for the product to become separated from the wearer. This, in turn, reduces the risk of disruption and lost time.
Here are a few of the key attributes that make AeroPlast a cut above the rest:
SupaBond Adhesive
Offering unrivalled adhesion, SupaBond Adhesive has been designed to solve many of the challenges food industry professionals face. When you use SupaBond Adhesive there will be no lift up or edge curling, offering unparalleled reliability.
SupaSorb Wound Pad
Engineered to minimize the number of dressing changes required while protecting from further injury, the SupaSorb Wound Pad drains blood or exudate into specifically designed pockets. This leaves the wound clean, comfortable and at a lower risk of infection.
Detectable
The AeroPlast range is available in a vibrant blue colour, which is the only color that does not occur naturally in food. This feature, as well as the ability to be spotted by metal detectors, ensures a high level of security during food production and preparation.
Premium backing film
Created using cutting-edge film technology, AeroPlast products have a built-in bacterial barrier which resists the entry of water, oil and grease. This full isolation of the wound speeds up recovery and maximizes comfort.
A range of sizes
Wounds come in all shapes and sizes and so AeroPlast Detectable dressings come with specialized fingertip, finger extension and knuckle dressings, as well as large and small patches, standard and extra wide adhesive bandages, and a dressing strip that can be cut to size. This ensures all wounds can be cared for quickly and efficiently.
How to use AeroPlast products:
Depending on the condition of the wound, change dressing at consistent intervals on a daily basis. Apply and remove strong adhesive products with care and seek medical advice immediately for serious injuries. If discomfort occurs, discontinue use and consult a physician.
Contact us today to discuss your requirements and find out how the AeroPlast range can help your customers deal with unexpected wounds quickly and easily.