URGENT MEDICAL DEVICE RECALL
Aero Healthcare, after consultation with the Therapeutic Goods Administration (TGA), is conducting a Medical Device Recall of the above PE Burn Sheets. We are contacting you as the potentially affected product may have been supplied to your organisation.
| | | |
| --- | --- | --- |
| TGA Reference Number | : | RC – 2022 – RN – 00507 – 1 |
| Product | : | AEROBURN PE Burn Sheets 60 cm x 90 cm |
| Product Code | : | ABS6090 |
| Batch Numbers | : | 186090, 196090, BS690323, BS690916, BS690D14, BS690N08, BS690O10, BS691302, BS691321, BS691625, BS691720 and BS691810 (supplied individually or as part of a first-aid kit, see Appendix 1). |
| ARTG Number | : | 218614 |
| Intended Use | : | A sterile, trauma covering used to maintain the stability of a burn patient en-route to a burn centre or hospital. The device is intended to be applied at the emergency site and is used to prevent burn progression, minimise trauma, and provide protection against contamination. |
Problem
ABS6090 is a sterile device. The product is packed in a sealed pouch providing a microbiological barrier to maintain product sterility over its shelf-life. During handling, if any abnormal forces are applied to a specific sealed edge, the pouch may open resulting in loss of microbiological barrier and sterility, potentially leading to a secondary infection.
This problem does not affect any batches of ABS6090 that were supplied prior to September 2018. The product is supplied individually or as part of a first aid kit (see full list of affected kits in Appendix 1).
Action Required
If you are a user, please inspect the pouch carefully (particularly at the edge opposite the 'peel to open' edge) and do not use the product if the pouch sealing is broken as shown in images below.
If you have to discard any product, call Aero Healthcare on 1800 628 881 to organise a replacement.
If you are selling or distributing this product, ensure your relevant staff are aware of this recall notice. Please advise your customers of this problem and provide them with a copy of this letter. (Download PDF Version of ABS6090 Customer Letter.pdf )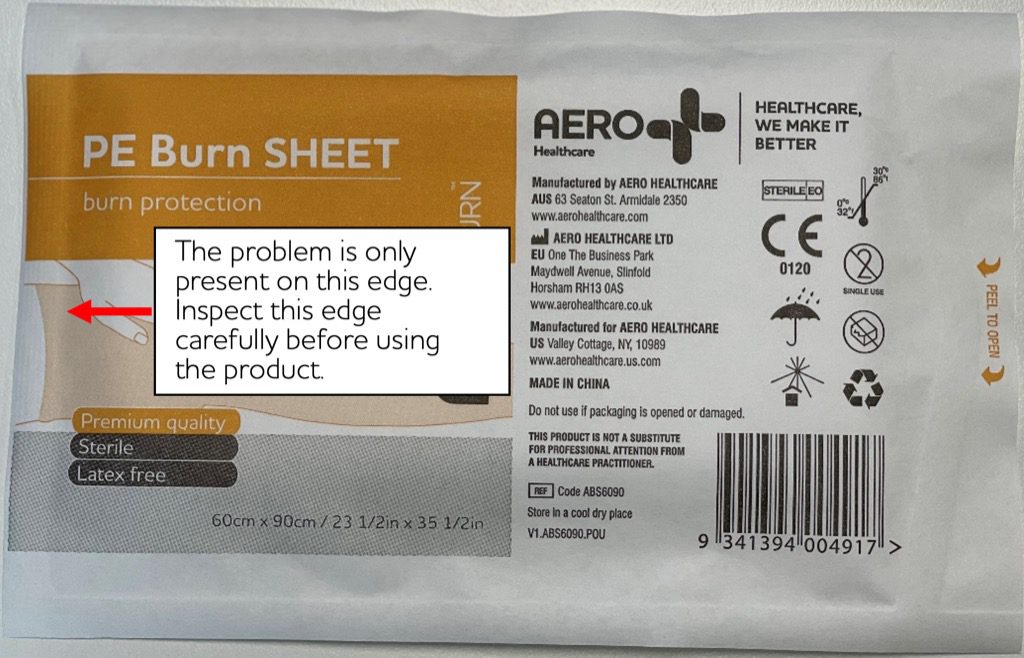 We apologise for any inconvenience this notification may cause and if you have further questions, please do not hesitate to contact Aero Healthcare on 1800 628 881 or recall@aerohealthcare.com.
Appendix 1: List of first aid kits containing ABS6090
First aid kit reference code
AAS060+
AFAKBNA
AFAKBNAR
AFAKBNB
AFAKBNBR
AFAKBNC
AFAKHFA45S
AFAKMODB
AFAKMODM4
AFAKMODM4-COM
AFAKMODM4-COMF
AFAKMODS4
AFAKMODS4-COM
ALMBU
ALMBUP
ALSMBU
C.AFAKABC
CPMBUR3
EFAPBDR
FAISB1
HRAFTBK
RSWREFILL
RWWCIVS
SAPBURM
SSFTYP
SSGTSPK