Stop The Bleed Month
Every minute counts! Someone who is severely bleeding can bleed to death in as little as 5 minutes. May is Stop The Bleed month, this month we're raising awareness of mass haemorrhage.
Knowing what to do in the event of a mass haemorrhage is crucial for survival.
The RapidStop Bleeding Control Kit is designed for quick and effective control of mass haemorrhaging. Including the popular RapidStop Tourniquet, this haemostatic trauma solution offers military grade ruggedness, all age suitability, superior single-handed application and the fastest average occlusion time. Achieving full occlusion in the shortest time possible is critical. This kit is designed to provide treatment options with efficiency and effectiveness in mind.
The Bleeding Control Pack is compact in size and effective in all environments, whether used in Military, First Response or Civilian instance.



INTUITIVE.
The RapidStop Tourniquet relies on key technologies to achieve rapid, intuitive and easy one-hand self-application. Application is even faster when a responder uses both hands to apply the tourniquet to a victim.
STRONG.
The RapidStop Tourniquet achieves full occlusion reliably and rapidly. It requires only gross motor control, allowing self-application to be readily possible. The RapidStop Tourniquet is appropriate for controlling haemorrhage for injuries to both the arms and legs.
LIFESAVING.
Easy as 1-2-3 Three simple and fast steps set RapidStop Tourniquet apart from the competition. Guided by instructions on the product, pocket-sized instruction cards and video format. Integrated instructions on the RapidStop Tourniquet are included using stitched waterproof vinyl tags resistant to any wear and tear.
Vital Tools To Save A Life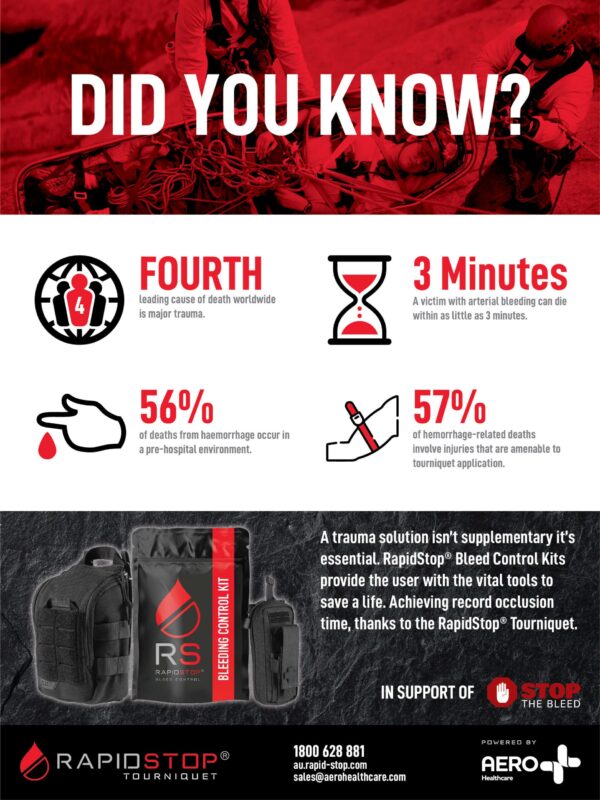 Watch the RapidStop in Action
Request RapidStop Flyers
Don't see your industry or environment above? Request a customised flyer below: