$1 Million Dollar Government Grant for AEDs in Caravan Parks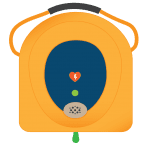 The Federal Government has released a $1 million dollar grant to support the installation of Automatic External Defibrillators (AED's) at caravan parks and camping sites throughout Australia. 
Caravan Parks have been identified as a key community hub and hence a strategic location for AED access given over 11 million Australians choose to stay in one each year. 
The Federal Government of Australia in collaboration with the Caravan Industry Association of Australia, have undertaken to provide a 50:50 funding to Caravan Parks throughout the country to ensure that installation of defibrillators to over 1000 Caravan Parks.
Sudden Cardiact Arrest (SCA) is AUSTRALIA'S BIGGEST KILLER where the typical Aussie is 10 times more likely to die from a cardiact arrest than they are from a car accident! 
Currently only 12% of people survive SCA, but an AED can increase the chance of survival to 75%!

Sudden Cardiact Arrest can happen to ANYONE, ANYWHERE, of ANY AGE and at ANY TIME. 
Applying to the grant is QUICK and EASY!
Tick a few boxes, fill out some details, and you're pretty much done! More than that, we're willing to help!
Fill in your details below and we'll contact you shortly.

Three Easy Ways to Get Started: