Description
AeroCool Hot & Cold packs are re-usable and specially designed for comfortable and convenient application of heat or cold to painful areas of the body.
Hot Application
For temporary pain relief of aching muscles and joints, nagging back pain or menstrual cramps.
Hot Water Method
Boil approximately 4-5 litres of water.
Remove water from heat
Immerse pack in water for approx. 10 mins.
Remove pack from water and always insert the hot/cold pack into the towel cover provided.
Microwave Method
Because microwaves vary in power, you need to find the correct heat time carefully.
Before you begin, flatten the pack and ensure the gel is evenly distributed.
If pack is at room temperature, expose on high for 30 seconds and let stand 30 seconds. If more heat is necessary, try a further 10 seconds at a time with equal standing until correct temperature is reached.
If frozen, expose on medium initially for 60 seconds then let stand for 60 seconds. Further exposure should be in 10 seconds increments, with equal standing time, until correct temperature is reached.
Record the total time for future use.
Cold Application
To help reduce swelling after an injury, cool down a temperature, ease headaches and toothaches or relieve minor burns.
Store pack in freezer so that it is always ready to use cold for an injury. Please refrigerate gel in freezer for at least 2 hours.
Insert the hot/cold pack into the towel cover provided to insulate the cold. In case of severe injury, wet towel prior to application for greater cold penetration. Do not use directly on skin straight from freezer.
Only leave cold pack on for 15-20 minutes to avoid 'burning' the skin.
Repeat every 1 – 1.5 hours as needed.
Consult physician regarding extended use.
When not in use, store AeroCool Hot & Cold Packs either in the freezer or at room temperature out of direct sunlight.
Always ensure hot / cold pack is inserted into the towel cover provided before direct contact with skin.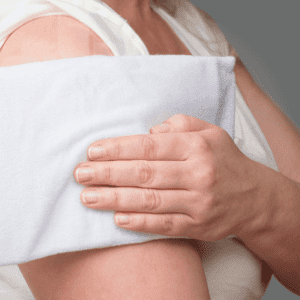 ADVISORY NOTICE
Date: 07/09/2021
Product: AHC5001 AEROCOOL (previously known as AEROPLAST) HOT/COLD pack, 320g
Intended use: A reusable HOT/COLD pack intended to apply heat or cold to painful areas of the body.
Batch number: All HOT/COLD packs without an expiry date.
Reason:  It has come to our attention that the hot/cold pack pouch material ages over time leading to a significant loss of water from the gel. This causes the gel to become hard and distribute unevenly inside the pouch, therefore, making the product unusable over time. In some cases, if the pouch is heated in a microwave, the fabric might burn and smoke.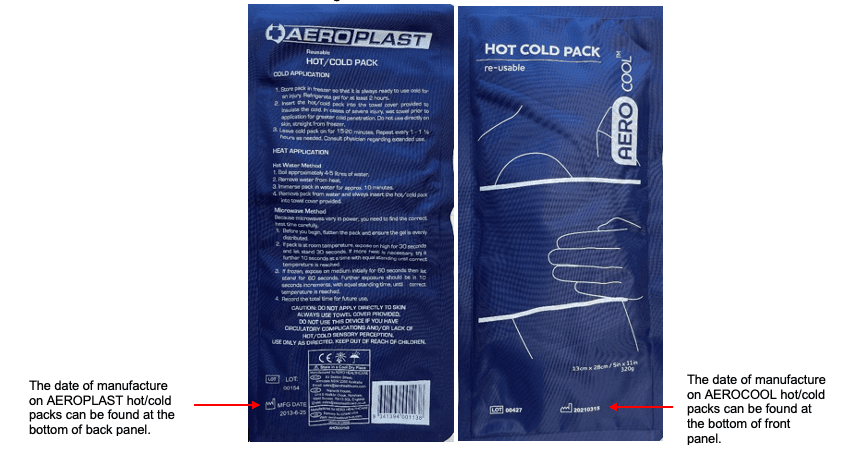 Action required: If you are selling or distributing this product, please advise your customers that this product can be used safely for 4 years from the date of manufacture. If you are an end-user, please discontinue using this product after 4 years from the date of manufacture. The date of manufacture of this product can be either found on the front or back as shown above.
If you have any questions with regards to this Advisory Notice, please feel free to contact Aero Healthcare on (02) 6776 7200 or sales@aerohealthcare.com.