Have a look through our catalogue!
Aero Healthcare wholesales custom labelled First Aid Kits stocked with high-quality Aero Healthcare first aid products. Our First Aid Kits meet or exceed the regulations and requirements of each region, with kits and modules designed for Industrial and Office workplaces, construction sites, vehicles, home use and more.
First Aid Kits Catalogue 2023
First Aid Kits Catalogue 2023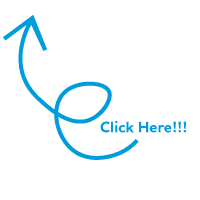 We design and manufacture our first aid kits to suit in-demand industries and end-user needs with cases and contents selected to meet relevant Australian Federal and State Workplace Safety legislation and regulations.
Our First Aid Kits come in up to 5 case options per range: Tough metal, Versatile soft pack fabric, Weather resistant, Neat and Rugged plastic cases, cabinets and bags in a variety of sizes with strong carry handles and secure wall mounting options.
Aero Healthcare is an ISO 13485 Approved Australian Manufacturer.
Custom Label First Aid Kit Range:
Most Retail Friendly Kit
Custom Branding on a MOQ as low as 1 Kit
Refill packs for simple restocking and servicing
Large range of case options to suit every need
Competitive, Attractive Pricing
Based on 15 years of customer reviews from what consumers really want from a kit
Best Quality in the Industry
Kits that meet Australian Standard AS2675-1983
Australian State and Territory compliance
ISO 13485 Approved Australian Manufacturer
Best Adhesive Bandages available in First Aid Kits
Case Options
CUSTOM LABELLING
All of Aero Healthcare's First Aid Kits come with a custom labelling option to allow you to brand all our First Aid Kit bags, cases and cabinets to meet your business and your clients requirements. With a minimum order as low as 1 kit and a 1 business day turnaround time from our acceptance of your branding proof, Aero Healthcare's Custom Branded First Aid Kits option offers high value for money.
Our First Aid Kit ranges have up to 5 case options to meet your client's needs:
TOUGH METAL FIRST AID KITS
Our tough metal First Aid Kit cases and cabinets are constructed with heavy-duty full-length metal hinges and quality clasps to keep them securely fastened shut,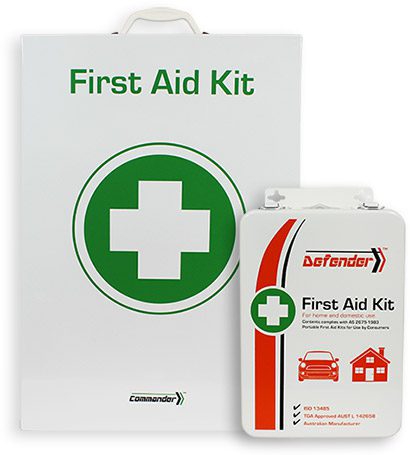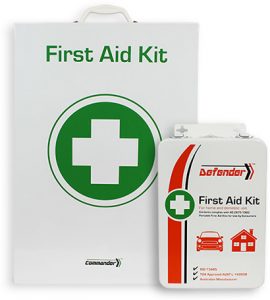 avoiding accidental opening of the First Aid Kit when bumped or carried.
All tough metal first aid kits come with both tough carry handles and wall mounting options. The large metal cabinets are perfect for wall mounting, while the smaller metal cases are a great option for stowing in vehicles and locations where durability is a necessity.
VERSATILE SOFTPACK FIRST AID KITS
These rugged compact reinforced soft pack fabric first aid kit bags conform to fit in irregular storage spaces while protecting their contents.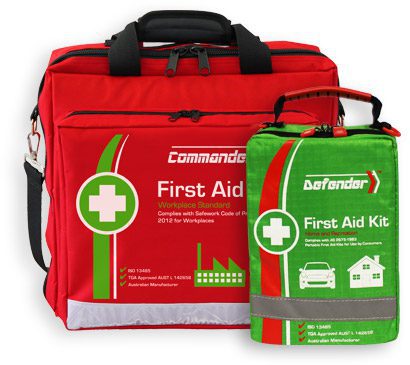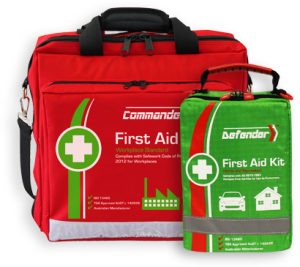 .Tough zippers are quickly located by their red plastic tags, while durable fabric handles and straps make these kits comfortable to securely carry. A reflective strip along the front of these versatile first aid kits makes them easy to spot and helps keep responders visible
First Aid Kit contents are held in place internally by strong elasticated mesh screens, elastic loops and strong pouches selected to best hold individual kit contents for easy selection.
WEATHER RESISTANT FIRST AID KITS
Built to protect from dust and water, these securely sealed plastic cases are designed to cope with unpredictable weather conditions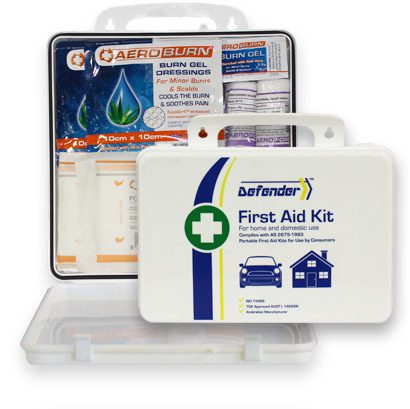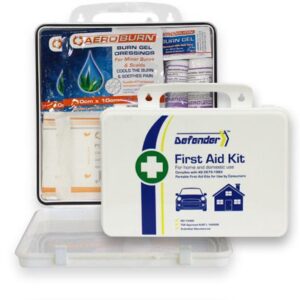 found on work sites and the splashes and spills inherent in industrial environments.
Our Biohazard and Burn specialist kits come in weatherproof cases to ensure the kit is protected from contaminants at the scene.
RUGGED PLASTIC FIRST AID KITS
Rugged cases are made from hard durable plastics with strong hinges and clasps to cope with the bumps and bashes that can occur when quickly responding to a First Aid situation at construction sites and factory environments.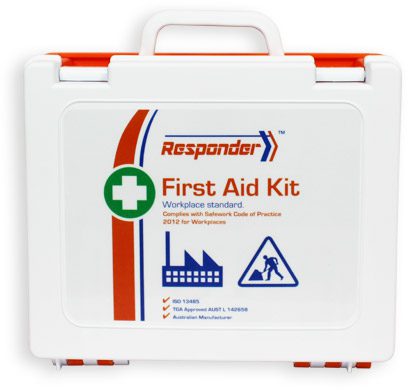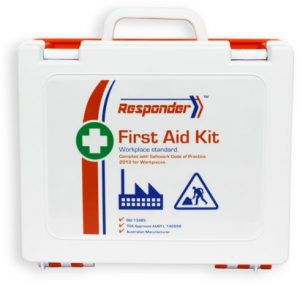 The thick solid plastic handle and toughened claps are protected by the case's shape when not in use – these rugged first aid kits are perfect for storing in busy environments where they will need to stand up to rough handling.
NEAT PLASTIC FIRST AID KITS
Perfect for office and childcare environments, where reassurance and comfort is as high a priority as swift treatment. Smart in appearance and easy to clean, these kits will look at home in any professional and residential environment.
Available in a variety of sizes to suit personal, home and workplace needs.