Description
NIO Adult = New Intraosseous Device
No drills, batteries, or extra parts. Meet the New IO.
NIO offers unparallel performance, ergonomics and usability for rapid and safe intraosseous access to multiple locations.

NIO is a simple, automatic IntraOsseous (IO) device ready to use for safe, quick and easy vascular access.
NIO is used in emergency situations when vascular access is needed for fluid and drug administration. NIO is small, light, and easy to use in even the most demanding situations.
NIO is designed to be easily injected into either the tibia or the humerus in all clinical settings.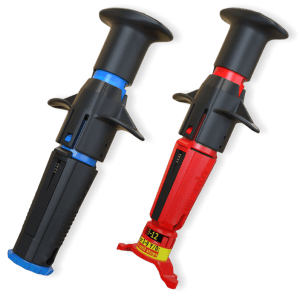 Features:
Pocket-sized & lightweight ~100g
No external power source or battery
Vascular access in 10 seconds
Disposable and single use
Clinically Proven Success
SAFE ON THE BONE.
The NIO has proven to be safe on the bone and resulted in zero incidents of bone fracture as observed by post-insertion x-rays.
EASILY TOLERATES COMMON USER ERRORS.
A recent study evaluated common user errors related to needle placement and found that even when placed up to 5cm from the correct insertion site, the NIO maintained an 85% success rate.
FIRST ATTEMPT SUCCESS RATES AS HIGH AS 98%.
Initial studies demonstrated an overall average success rate of 91.3% for the proximal tibia and 93.1% for the humeral head. The New York Institute of Osteopathic Medicine conducted an additional study which established a proximal tibia success rate of over 98%.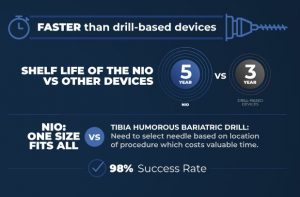 ??the?first attempt success rate?for inserting an NIO in the tibia was?98%, Humerus?91%??
NEW YORK INSTITUTE OF TECHNOLOGY COLLEGE OF OSTEOPATHIC MEDICINE